Kerri Turner's debut novel The Last Days of the Romanov Dancers centres around the story of two ballerinas dancing for the Imperial Russian Ballet during the 1917 Russian Revolution. To celebrate the release of her book she discusses her top 10 Ballet-inspired books, TV shows and movies.
---
It might surprise some that Martin Scorsese's favourite film is a ballet film, but that's how good this movie is. With some of the best ballet dancers of the era, such as Moira Shearer and Australian Robert Helpmann, the movie is romantic, heartbreaking, and a complete visual feast.
Bunheads, Sophie Flack (2011 book)
Fiction that is nevertheless a realistic look at the life of a ballet dancer. We see the sacrifices demanded from a young woman who has made it into the Manhattan Ballet Company but is wondering if this is the right path for her after all. Quite different from the television show with the same name (which was sadly cancelled too soon), but highly recommended for those who want an understanding of what it might be like to be a ballet dancer.
Dance Academy (2010–2013 television series; 2017 film)
This Australian teen drama is the closest representation of my own experience of training to be a dancer that I've ever seen. With a very talented cast of dancers, the storylines show the struggle between pursuing a demanding career at a young age and wanting all the things regular teenagers want. It was followed by a movie in 2017.
Ballet has become a favourite basis for psychological horror films, and Black Swan, which earned Natalie Portman an Oscar for her portrayal of an ambitious yet disturbed young dancer, seems to have kicked off the trend. The dance scenes, featuring Portman's dance double Sarah Lane of the American Ballet Theatre, are exquisite, as is the layering of Tchaikovsky's iconic 'Swan Lake' music.
Sadler's Wells series, Lorna Hill (1950–1964 book series)
Lorna Hill was an English writer whose daughter trained as a ballet dancer at the famous Sadler's Wells in London. Drawing on her daughter's experiences, the already established author wrote a fourteen-book series centred around the dance school, with characters ranging from future prima ballerinas to girls who realise they don't love ballet enough to make it a career. A favourite of mine since childhood.
A little on the cheesier side, and culminating with an unrealistically perfect ending, Center Stage is nevertheless a quintessential dance movie. Full of both classical (the exquisite balcony pas de deux from Romeo and Juliet) and more modern (the ballet at the climax of the film) dance sequences, the harsh realities of demanded perfection are also given plenty of screen time.
The Choice, Edith Eger (2017 book)
A memoir from a remarkable woman. Sixteen-year-old ballerina Edith Eger was sent to Auschwitz where she was made to dance for Joseph Mengele. A fascinating story and a brutal part of history.
Billy Elliot (2000 film; 2005 musical)
A coal miners' strike and a boy's love for ballet collide in this charming film and musical. Both will have you cheering on Billy as he finds a love and talent for ballet and has to fight prejudices.
Mao's Last Dancer (2003 book; 2009 film)
An autobiography by Chinese-Australian dancer Li Cunxin (current Artistic Director of the Queensland Ballet) which tells of his journey from a rural village in China, to studying dance under Mao's communist regime, to being a leading dancer in America and Australia. The book has more detail than the movie, but the movie's dance sequences are a real treat.
Swan, Kyoko Ariyoshi (1976–1981 manga series)
Swan is a serialised shoujo manga series which follows a budding ballerina. Japan is determined to show they can compare with Russia when it comes to ballet and we get to see the highs and lows through exquisitely drawn and emotive artwork. Volumes 1–15 were published in English, and can be hard to find but are well worth seeking out.
---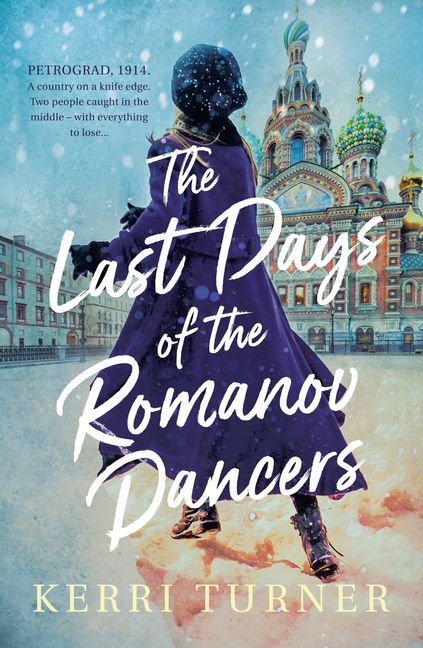 The Last Days of the Romanov Dancers by  Kerri Turner 
Petrograd, 1914. A country on a knife edge. The story of two people caught in the middle – with everything to lose… A stunning debut from a talented new Australian voice in historical fiction.
Valentina Yershova's position in the Romanovs' Imperial Russian Ballet is the only thing that keeps her from the clutches of poverty. With implacable determination, she has clawed her way through the ranks, relying not only on her talent but her alliances with influential men that grant them her body, but never her heart. Then Luka Zhirkov – the gifted son of a factory worker – joins the company, and suddenly everything she has built is put at risk.
For Luka, being accepted into the company fulfils a lifelong dream. But in the eyes of his proletariat father, it makes him a traitor. As civil war tightens its grip and the country starves, Luka is torn between his growing connection to Valentina and his guilt for their lavish way of life.
For the Imperial Russian Ballet has become the ultimate symbol of Romanov indulgence, and soon the lovers are forced to choose: their country, their art or each other…
A powerful novel of revolution, passion and just how much two people will sacrifice…
To find out more, and for your chance to WIN visit Herstory: books that write her back into history. 
"Kerri Turner on her top 10 favourite Ballet-inspired books, TV shows and movies"1 thought on